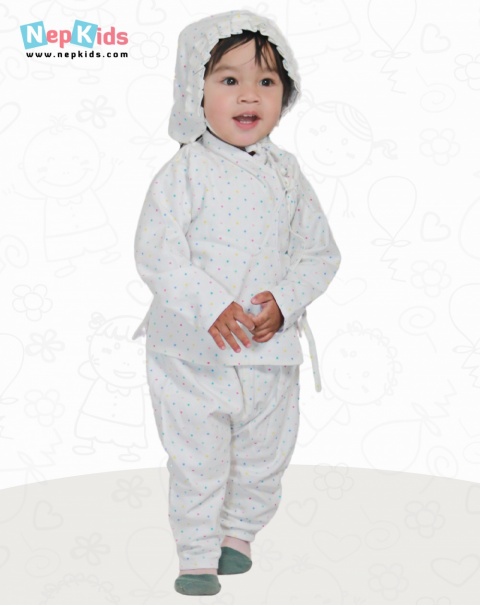 * Product Color May Slightly Vary Due to Photographic Lighting Sources or Your Monitor Settings
Bhoto set is an authentic multi-layeredwear suitable for kids of all ages. Varying fabric and scientific design, makes it appropriate for different seasons. With nostalgia of the previous livelihood, this set is finely handcrafted while honoring its cultural importance.
Rainbow Polka mal mal bhoto set is a very comfortable every day wear. This set consist of inner wear (peti bhoto), external wear (bhoto), trouser (suruwal) and cap (topi). Each item is made of three layered cotton fabric, which makes it ideal for children. Soft cotton external layer, printed layer in the middle and pure cotton on receiving end.
Wash care: Hand wash using cold water with gentle detergent, spot wash as needed. Hang the product or lay flat to dry.
Items included in this package - 4 items: peti bhoto, bhoto, topi and suruwal
Specification:
Type: Falatin bhoto set (cotton flannel set)
Set: 4pc. bhoto set (peti bhoto, bhoto, topi and suruwal)
Fabric: Japanese falatin with cotton lining (2 layers)
Design: Nepali authentic wear
Occasion: Daily wear (best for winter)
Fit: Regular
Thank you for connecting with us!
Items included in this package - 4 items: peti bhoto, bhoto, topi and suruwal
Specification:
Type: Falatin bhoto set (cotton flannel set)
Set: 4pc. bhoto set (peti bhoto, bhoto, topi and suruwal)
Fabric: Japanese falatin with cotton lining
Design: Nepali authentic wear
Occasion: Daily wear (best for winter)
Fit: Regular